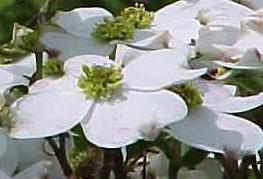 Cornus Florida - 'White' Flowering Dogwood from Historyland Nursery
Cornus Florida
'White' Flowering Dogwood
Categories: Tree
The (Cornus Florida) Flowering White Dogwood is a great choice for all four seasons and is also a favorite in many yards and gardens. The flowers show their beauty in the spring and foliage turns a vibrant red in the fall. Glossy red fruits in the winter attract songbirds for all to enjoy.  This tree grows at a medium rate, with height increases of 12-24" a year. 
We offer the Flowering White Dogwood in a 15 gallon container.
More About Cornus Florida
Attracts: Birds, Butterflies
Blooms early spring (April) or shortly after
Bright red fruits are loved by birds but bitter and inedible to humans
Grows in a rounded shape
Good choice for planting near utility lines, larger buildings or off patios
Cornus Florida, commonly known as flowering dogwood, is a small deciduous tree that typically grows between 15-25 foot tall with a somewhat rounded habit and low-branching. It may arguably be the most beatiful of the native American flowering trees. 
This tree is an option to plant near large buildings, just off of patios and utility lines. White Dogwoods also offer a nice contrast when planted along with pink or red dogwoods with larger evergreens in the background. 
Interesting Notes:
Native tree from Massachusetts to florida and west to Texas; this tree has been a favorite in America for centuries with both George Washington and Thomas Jefferson planting them on their plantations. Early Native Americans made medicinal teas from the bark, and Civil War doctors used this same tea as a quinine substitute. Dogwoods are known for their extremely hard wood and it has been used for many projects during history. 
It is the state tree of Missouri and Virginia. 
'White' Flowering Dogwood Growing and Maintenance Tips
Popular as a specimen or in a small grouping, White Flowering Dogwoods are easliy grown in average, medium moisture - well drained soils. Full sun and partial shade are the best for this tree. It does perform best with an average of 4 hours of direct unfiltered sunlight daily. 
Height:
15-25 ft
Spread:
15-25 ft
Hardiness Zone:
5 - 9
Attracts Wildlife
Attracts Songbirds
Attracts Butterflies
Attributes
Native
No Deadheading
Specimen
Fall Color
Focal Point
Season of Interest (Flowering)
Season of Interest (Foliage)
Genus Overview: Cornus
Family: Cornaceae · Common Name: Flowering Dogwood
Cornus is a genus of about 30–60 species of woody plants in the family Cornaceae, commonly known as dogwoods, which can generally be distinguished by their blossoms, berries, and distinctive bark.  Several species have small heads of inconspicuous flowers surrounded by a collection of large, typically white petal-like bracts, while others have more open clusters of petal-bearing flowers. 
Plants that work well with Cornus Florida ''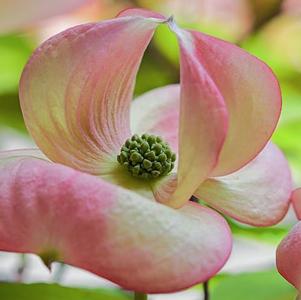 Flowering Dogwood
(Cornus 'Rutgan' 'Stellar Pink')

Flowering Dogwood
(Cornus Florida 'Red Flowering')
Flowering Dogwood
(Cornus Florida 'Pink Flowering')