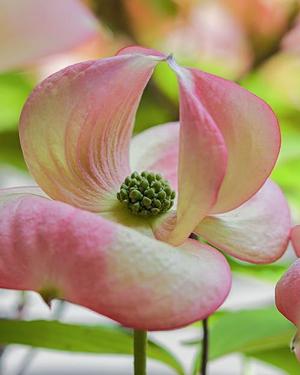 Cornus 'Rutgan' 'Stellar Pink' - Flowering Dogwood from Historyland Nursery
Cornus 'Rutgan' 'Stellar Pink'
Flowering Dogwood
Categories: Tree
The Stellar Pink is a hybrid dogwood (Cornus Florida X Cornus Kousa) like the Aurora is very vigorous and has an erect habit. Unlike the vase-shaped Kousa, the Stellar Pink branches low and is uniformly wide throughout. Flowers emerge around the end of April into May. Rounded overlapping bracts are soft pink in color and nicely textured in appearance. 
More About Cornus 'Rutgan' 'Stellar Pink'
Low Maintenance
Attracts Butterflies
Blooms are soft pink in color (bloom time: April to May)
Branches low, uniformly wide throughout
Popular as a single specimen or in a small grouping
The Stellar Pink is uniform width from top to bottom, typically maturing to 15-20' tall and just as wide. Prefers moist, organically rich acidic soils that are well-drained , in part shade. Will benefit from  2-4 inches of mulch that will keep the roots cool and moist in the summer. 
We offer the Stellar Pink Dogwood in a 10 gallon container.  
Interesting Notes:
Small diciduous tree with a dense, upright habit. The Stellar Pink hybrid dogwood is known for its vigorous habit, large-bracted flowers, profuse bloom.
Flowering Dogwood Growing and Maintenance Tips
Leaf scorch may occur in full sun locations, particularly in hot, windy or droughty conditions. Stellar Pink dogwood is also known for its resistance to anthracnose and dogwood borer. 
Height:
15-30 ft
Spread:
15-30 ft
Spacing:
10-15 ft
Hardiness Zone:
5 - 9
Attributes
Fall Color
Specimen
Vigorous
Low Maintenance
No Deadheading
Focal Point
Season of Interest (Flowering)
Season of Interest (Foliage)
Plants that work well with Cornus 'Rutgan' 'Stellar Pink'

Flowering Dogwood
(Cornus 'Rutban' Aurora 'Dogwood')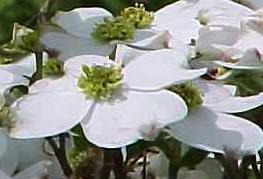 'White' Flowering Dogwood
(Cornus Florida )