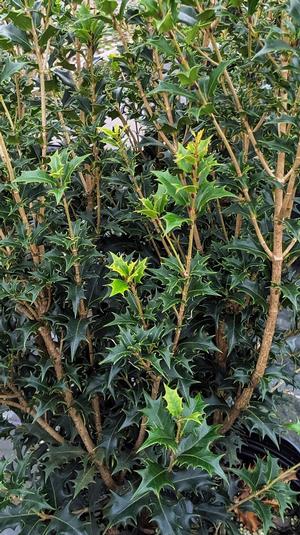 Osmanthus O. heterophyllus 'Gulftide' - False Holly from Historyland Nursery
Osmanthus O. heterophyllus 'Gulftide'
False Holly
Categories: Shrub
The Gulftide has a compact, upright form with glossy dark green foliage and prominent spiny margins. White flowers are largely hidden on this plant but you know they are there because of their fragrance. The growth rate is slow to medium but that doesn't stop the Gulftide from being used in borders, screens, hedges, a formal specimen, by walks and entrances....it will also make an excellent barrier planting. 
We offer the Gulftide in a 5 gallon container. 
More About Osmanthus O. heterophyllus 'Gulftide'
Compact, upright form
More cold hardy than the species
No serious diseases and insects
Easily transplanted from containers
More shade tolerant
Interesting Notes:
Extremely glossy green foliage and prominate spiny margins and a slight twist. The leaves become progressively less spiny with maturity of the plant. Gulftide is more cold hardy than others of the species.
False Holly Growing and Maintenance Tips
Easily transplanted from containers
Prefers fertile, moist, well-drained acid soil
Will withstand heavy pruning
If planted in full sun, it may discolor slightly, prefers partial shade.
Height:
8-10 ft
Hardiness Zone:
(6)7 to 9
Attributes
Cold Tolerant
Mass Planting
Evergreen
Low Maintenance
Fragrant
Season of Interest (Flowering)
Season of Interest (Foliage)
Plants that work well with Osmanthus O. heterophyllus 'Gulftide'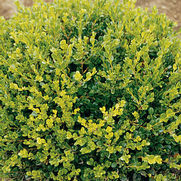 Winter Gem Boxwood
(Buxus var. koreana 'Winter Gem')
Heavenly Bamboo
(Nandina domestica)