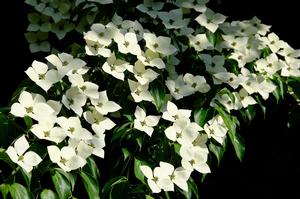 Cornus Florida 'Kousa Dogwood' - Flowering Dogwood from Historyland Nursery
Cornus Florida 'Kousa Dogwood'
Flowering Dogwood
Categories: Tree
The kousa dogwood, well know for it toughness, makes it an excellent choice for home landscapes. In the spring, it produces an array of star-like blooms. In the fall, it offers bright red foliage.
More About Cornus Florida 'Kousa Dogwood'
Blooms May-June, with distinctive white bracts surrounding small, greenish-yellow flowers.
Features dark green leaves that are long and elliptic-ovate in shape.
Produces pinkish-red to red fruit that attracts songbirds.
Flowering Dogwood Growing and Maintenance Tips
Full sun and partial shade are best for this tree. The Kousa Dogwood grows in acidic, loamy, moist, sandy, well-drained and clay soils. It prefers average moisture but is somewhat drought-resistant.
Height:
15-25 ft
Spread:
20-25 ft
Hardiness Zone:
5-8
Attributes
Fall Color
Drought Tolerant
Season of Interest (Flowering)
Season of Interest (Foliage)
Genus Overview: Cornus
Family: Cornaceae · Common Name: Flowering Dogwood
Cornus is a genus of about 30–60 species of woody plants in the family Cornaceae, commonly known as dogwoods, which can generally be distinguished by their blossoms, berries, and distinctive bark.  Several species have small heads of inconspicuous flowers surrounded by a collection of large, typically white petal-like bracts, while others have more open clusters of petal-bearing flowers.