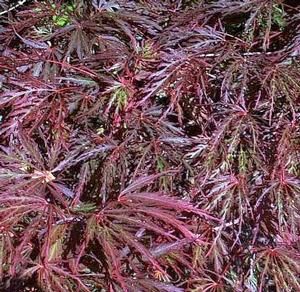 Acer Japanese Maple 'Red Select'
Japanese Maple
Categories: Tree
'Red Select' is a dissected cultivar that typically grows in an upright, broad-rounded but cascading form to 4-6' tall over the first ten years, eventually maturing to 10' tall and to 12' or more wide. It is noted for its lace-like foliage that emerges light red in spring, matures to deep red-purple in summer and finally turns crimson red in fall. Palmate, 7-lobed, red-purple leaves (to 6" long) are deeply cut and dissected. Foliage tends to leaf out early in spring and is subject to damage from late spring frosts.
We offer the 'Red Select' in a 10 gallon container.
More About Acer Japanese Maple 'Red Select'
New foliage may scorch in full sun locations in hot summer areas, particularly if soils are not kept consistently moist.
Mulch helps retain soil moisture and keeps roots cool.
Plant in locations protected from strong winds
Fall color includes shades of yellow, red-purple and bronze.
Interesting Notes:
Small reddish flowers in spring are somewhat attractive on close inspection, but are not showy from a distance. Japanese maples are generally grown for their attractive foliage and shape. As a specimen/accent or group is optimal for around the home, yard, patio or periphery of the border or rock garden. Good sun-dappled understory tree. Somewhat cascading form can be showcased by planting this cultivar near a pond or water garden. Can be effective in containers.
Japanese Maple Growing and Maintenance Tips
Easily grown in moist, organically rich, slightly acidic, well-drained soils in full sun to part shade. Grows well in sandy loams. Pruning is best kept to a minimum, but if needed should be done in late fall to mid-winter. Avoid hot and dry sites.
Height:
6-10 ft
Spread:
8-15 ft
Hardiness Zone:
5 - 9
Genus Overview: Acer
Common Name: Japanese Maple
Japanese Maple (Acer palmatum) are known for their colorful foliage through the growing season. Upright multi-stemmed with lobe shaped leaves or graceful cascading with lace type leaves. New cultivars are available in shades of green, pink and variegated. The gray-brown bark is smooth even in maturity. It produces burgundy-red flowers with yellow stamens that are borne on upright or drooping clusters as they emerge in spring.  Leaves turn a crimson red in the fall.  This small deciduous tree is a great addition in smaller gardens and patios.  Full sun or partial shade.