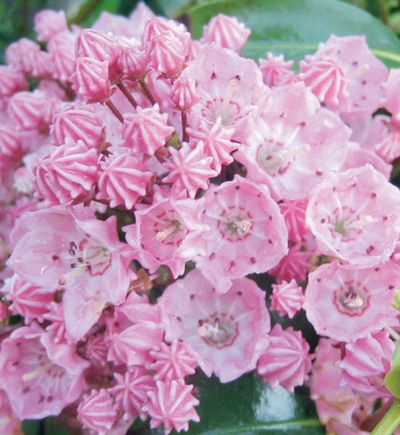 Kalmia latifolia 'Sarah' - Sarah Mountain Laurel
Kalmia latifolia 'Sarah'
Mountain Laurel
Categories: Shrub
Dazzling red buds open to a bright pink flower that continues to bloom over a long period of time.  Dense, compact rich green foliage, this plant prefers more sun than other varieties.  A great addition to any landscape.
We offer Sarah 18" to 24" in a 5 gallon container.
More About Kalmia latifolia 'Sarah'
Produces an impressive floral display during late spring.
Native to the eastern U.S. ranging from Maine to Florida.
Ideal for shady understory locations.
Interesting Notes:
Robust, dense and symmetrical when young, becoming open, loose and picturesque with gnarly branches and limbs in old age.  It takes a little more effort to grow the Kalmia but the rewards are well worth it.  If not using in a naturalized area the Kalmia can be pruned to retain a dense and compact form.  Pruning is done soon after the flowers have faded as next seasons buds form on the new wood.
Mountain Laurel Growing and Maintenance Tips
Attempting to mimic the Kalmia's natural conditions when planting is very important to insure its survival.  Organic matter should be aged pine bark, peat or compost.  Avoid coarse pine or hardwood bark that may not have good water holding capacity and could limit root development.  Organic layers should extend approximately 8 inches out from the stem before tapering off, becoming even with grade approximatly 18" from stem.   Maintain irrigation until roots have established in the backfill.  Consider fall transplanting to take advantage of higher root growth rates and avoid competition with spring shoot flushes.  Choose planting locations that are cooler such as shaded areas or north or east sides of buildings.   Fertilize in the spring after blooming with a food for acid loving plants.  
Height:
4 Feet
Spread:
4 Feet
Hardiness Zone:
5-9
Critter Resistance
Squirrel Resistant
Deer Resistant
Rabbit Resistant
Soil Moisture
Moist, Well-Drained
Average Water
Attributes
Great Foliage
Naturalizing
Long Blooming
Mass Planting
Evergreen
Season of Interest (Flowering)
Genus Overview: Kalmia
Common Name: Mountain Laurel
Kalmia latifolia, known as Mountain laurel is a member of the Heath family. Tight clustered buds emerge in a magnificent display of star like flowers in late spring.  One of the best and most loved native shrub. The Kalmia will thrive in shade but will produce more flowers in full sun or light shade. Take extra care in planting to insure its survivability. There are many hybrid cultivars available. Caution: Can be harmful if ingested.