Cornus 'Rutban' Aurora 'Dogwood' - Flowering Dogwood from Historyland Nursery
Cornus 'Rutban' Aurora 'Dogwood'
Flowering Dogwood
Categories: Tree
The Aurora is a hybrid dogwood (Cornus florida X Cornus Kousa) that is part of the Stellar series. It has a uniform width from top to bottom, typically maturing to 14-18' tall and as wide. 
We offer the Aurora Dogwood in a 15 gallon container.
More About Cornus 'Rutban' Aurora 'Dogwood'
Popular as a specimen or small grouping
Effective in woodland gardens
Large flowers bloom in Spring
Dark green leaves turn attractive shades of purple in Fall
 It is a small deciduous tree with a dense, upright, vigorous habit, large-bracted flowers, with profuse blooms and noted for its resistance to anthracnose and dogwood borer. 
Flowering Dogwood Growing and Maintenance Tips
Prefers moist, organically rich, acidic soils in part shade. Leaf scorch may occur in full sun locations, particularly in hot, windy or droughty conditions. Will benefit from a 2-4" mulch bed wich will help keep roots cool and moist in summer.  
The Auroroa is noted for having good resistance to anthracnose and dogwood borer. 
Height:
14-18 Feet
Spread:
14-18 ft
Spacing:
18 Feet
Hardiness Zone:
5 - 9
Attributes
Specimen
Vigorous
Edging
Fall Color
No Deadheading
Season of Interest (Flowering)
Season of Interest (Foliage)
Plants that work well with Cornus 'Rutban' Aurora 'Dogwood'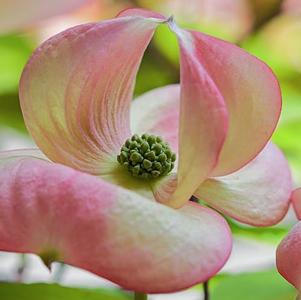 Flowering Dogwood
(Cornus 'Rutgan' 'Stellar Pink')