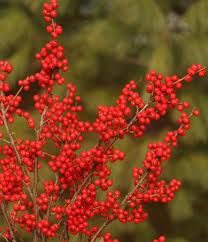 Ilex verticillata Sweethearts - Jim Dandy/Berry Nice Combo
Ilex verticillata 'Jim Dandy/Berry Nice'
Sweethearts Winterberry
The combination of Jim Dandy and Berry Nice 'Sweethearts' creates a self-pollinating plant that produces an abundance of bright red berries in the fall. Each complements the other in their growth habit and blooming time. The  leaves are reddish as they appear in the spring maturing to dark green in summer.  As fall approaches the leave turn yellow and as they drop the abundant bright red berries are revealed, presisting through winter providing food for birds. The foliage is mildew resistant.
We offer Sweethearts 24" to 30" in a 5 gallon container.
More About Ilex verticillata 'Jim Dandy/Berry Nice'
Perfect combination for berries
Adds winter interest to the landscape
Attracts birds
Good for cut flower or dried arrangements
Adaptable to light and heavy soil but prefers moist conditions
Sweethearts Winterberry Growing and Maintenance Tips
Easy to grows in partial shade of full sun.  Prefers moist slightly acid soil.  Prune in spring before new growth emerges to keep a formal appearance.  Fertlize with an all purpose fertlizer when needed.
Height:
6-8 Feet
Spread:
6-8 Feet
Spacing:
6-8 Feet
Hardiness Zone:
4-8
Soil Moisture
Wet Soil/Wetlands
Moist, Well-Drained
Attributes
Naturalizing
Dried Flower/Foliage
Mass Planting
Low Maintenance
Native
Cut Flower/Foliage
Fast Growing
Focal Point
Season of Interest (Flowering)
Genus Overview: Ilex
Common Name: Winterberry
The verticillata is native to the eastern and central United State and some parts of Canada. A slow growing deciduous shrub, with an upright and oval-round shape has tiny white flowers along the stems in spring before the dark green leaves emerge. Leaf color is yellowish with a tinge of purple in the fall. A male plant needs to be present in order for the female to produce berries. This versatile plant adapts to many soil types and is very useful in wet areas in full sun or partial shade. Excellent when used as a border, hedge or in mass planting. Excellent shrub for moist soils in low spots or along streams and ponds.