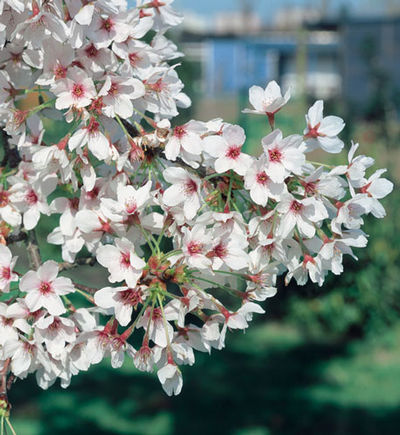 Prunus x yedoensis 'Akebono' - Akebono (Daybreak) Cherry
Prunus × yedoensis 'Akebono'
Akebono Daybreak Cherry
Categories: Tree
Akebono Cherry is a medium sized tree with a stiff, upright-spreading habit, eventually becoming umbrella shaped.  Flowers are double pink and fragrant.  Dark green glossy leaves emerage as flowers fade.  Fall color is yellow to orange.  Specimen or border plant.
We offer Akebono 1" to 1 1/2" caliper, 6' tall in a 15 gallon container.
More About Prunus × yedoensis 'Akebono'
Single specimen.
Group planting.
Along driveways.
Akebono Daybreak Cherry Growing and Maintenance Tips
Fertilize in spring with an all purpose fertilizer before new growth begins.
Height:
25 Feet
Spread:
40 Feet
Hardiness Zone:
5-8
Season of Interest (Flowering)
Season of Interest (Foliage)
Genus Overview: Prunus (Flowering)