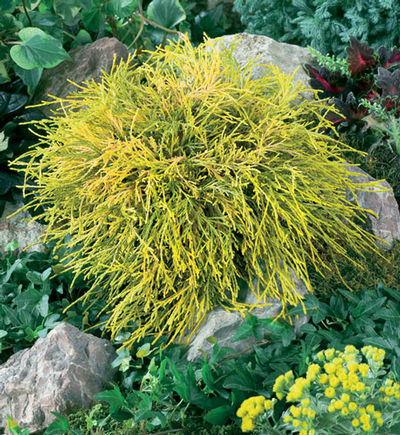 Chamaecyparis pisifera 'King's Gold' - Sawara Falsecypress
Chamaecyparis pisifera
Gold Mop Cypress
Categories: Shrub
Stunning golden, threadlike branches are the trademark of this evergreen shrub. The cascading nature of the branches also adds an air of elegance to any mixed border. Easy to grow and adapts to most locations.
We offer the Gold Mop 18" in a 5 gallon container.
More About Chamaecyparis pisifera
Accent plant.
Holds color well.
Adds contrast to the landscape.
Interesting Notes:
A much improved strain of gold mop cypress, it has a more compact and wider spreading growth habit than the species. 
Gold Mop Cypress Growing and Maintenance Tips
Fertilize in spring with an all purpose fertilizer before new growth begins. For a formal sheared hedge planting 2 to 3 feet apart is recommended. When a natural hedge is prefered space 3 to 4 feet apart. Click on the "About Us" tab to find planting instructions.
Height:
4 Feet
Spread:
4 Feet
Hardiness Zone:
4-7
Attributes
Mass Planting
Low Maintenance
Evergreen
Focal Point
Season of Interest (Foliage)
Genus Overview: Chamaecyparis
Common Name: Gold Mop Cypress