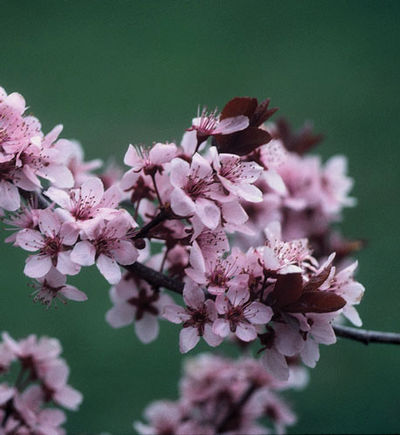 Prunus x cerasifera 'Krauters Vesuvius' - Krauters Vesuvius Plum
Prunus x 'Krauter Vesuvius'
Krauter Vesuvius Plum
Categories: Tree
'Krauter Vesuvius' is similar to 'Thundercloud', but more upright and rounded. Light pink flowers appear in early spring before the deep purple leaves appear. Heat tolerant and adapts well to many soil types. Excellent for use in Japanese gardens, or a single specimen.
We offer Krauter Vesuvius 1" to 1 1/2" caliper, 6' to 7' tall in a 15 gallon container.
More About Prunus x 'Krauter Vesuvius'
Single specimen.
Group planting.
Along driveways.
Krauter Vesuvius Plum Growing and Maintenance Tips
Fertilize in spring with an all purpose fertilizer before new growth begins.
Height:
15-20 Feet
Spread:
10-15 Feet
Hardiness Zone:
5
Season of Interest (Flowering)
Genus Overview: Prunus (Flowering)