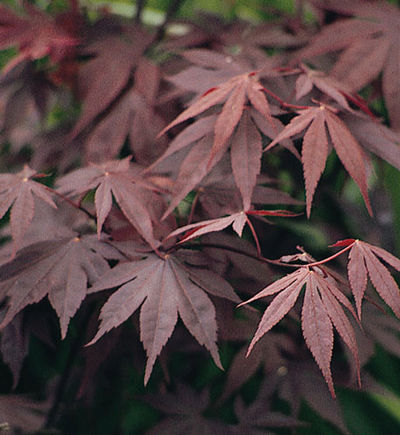 Acer palmatum var. atropurpureum 'Bloodgood' - Japanese Maple
Acer palmatum 'Bloodgood'
Japanese maple
Categories: Tree
Bloodgoods have bright red leaves in the spring - maturing to a rich purple-red color during the summer - becoming a bright crimson in the fall. This sturdy, deciduous tree makes an excellent selection for nearly any landscape!  A vigorous upright grower that becomes rounded with age.  Small inconspicuous red flowers in spring followed by red fruit in early fall.  This tree retains its color well even during summer heat.
We offer single stem Bloodgood 5' to 6' tall in a 10 gallon container.
More About Acer palmatum 'Bloodgood'
Small tree ideal for smaller gardens.
Retains color even in hot weather.
Brilliant fall color.
Winter interest.
Interesting Notes:
Mainly used as a single specimen; in landscapes the Japanese maple makes a striking display when used to line a driveway, along property lines or in groupings.  When used in this way, the recommended spacing for this tree is 20 feet apart . 
Japanese maple Growing and Maintenance Tips
Easily grown in average, medium, well-drained soil in full sun to part shade. Fertilize in spring with an all purpose fertilizer before new growth begins.  Click on the "About Us" tab to find planting instructions.
Height:
15-20 Feet
Spread:
15 Feet
Spacing:
20-25 Feet
Hardiness Zone:
5-8
Attributes
Fall Color
Great Foliage
Low Maintenance
Fast Growing
Specimen
Focal Point
Season of Interest (Foliage)
Genus Overview: Acer
Common Name: Japanese Maple
Japanese Maple (Acer palmatum) are known for their colorful foliage through the growing season. Upright multi-stemmed with lobe shaped leaves or graceful cascading with lace type leaves. New cultivars are available in shades of green, pink and variegated. The gray-brown bark is smooth even in maturity. It produces burgundy-red flowers with yellow stamens that are borne on upright or drooping clusters as they emerge in spring.  Leaves turn a crimson red in the fall.  This small deciduous tree is a great addition in smaller gardens and patios.  Full sun or partial shade.