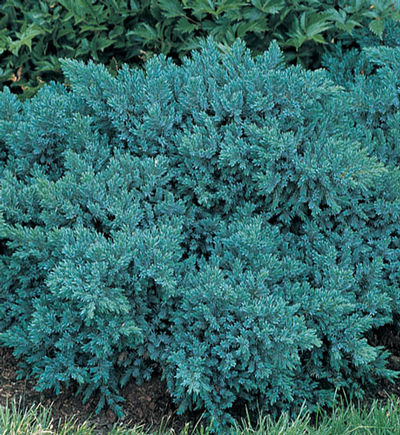 0
Juniperus squamata 'Blue Star'
Blue Star Juniper
Categories: Shrub
Nice blue tinted foliage on this dense, low growing rounded evergreen.  This juniper is slow growing and does not develop a central leader thus keeping it nice and dense.  Adapts to a wide variety of soil conditions.
We offer Blue Star 12" to 15" in a 3 gallon container.
More About Juniperus squamata 'Blue Star'
Striking blue color.
Mounding habit.
Nice accent shrub.
Interesting Notes:
The Blue Star was developed round 1950 and was essentially unknown.  It has become widely used in many landscapes because of it growth habit, versitility and striking color.
Blue Star Juniper Growing and Maintenance Tips
Fertilize in spring with an all purpose fertilizer before new growth begins.
Height:
3 Feet
Spread:
3-4 Feet
Hardiness Zone:
5-8
Attributes
Border or Bed
Evergreen
Mass Planting
Low Maintenance
Season of Interest (Foliage)
Genus Overview: Juniperus
Common Name: Juniper
The Juniper is one of the toughest and most versatile evergreen landscape plants. It ranges from spreading ground cover types to large conical or pyramidal trees. Upright varieties are excellent as a screen, hedge, single specimen or as a windbreak. The low growing varieties are limitless when used as ground cover, foundation planting, grouping, or mass planting and to soften rock gardens. Needle-like foliage ranges in color from lustrous dark green to light green, blue, silver-blue, yellow and shades in-between. This resilient plant adapts to a variety of soil types and can withstand wind, drought, heat and humidity. Excellent for erosion control and can even withstand a little nibbling from deer and rabbits.