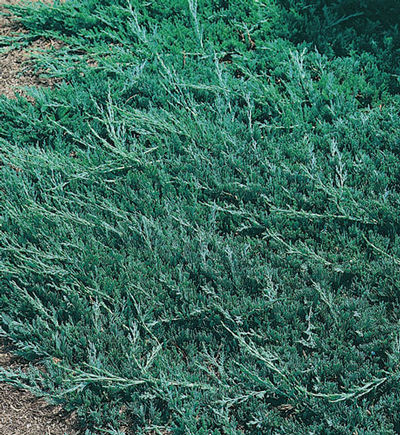 Juniperus horizontalis 'Wiltoni' - Blue Rug Juniper
Juniperus horizontalis 'Wiltoni'
Blue Rug Juniper
Categories: Shrub , Vine/Groundcover
Very flat growing form with trailing silver-blue branches that take on a light purplish color in winter.  Drought, heat, and cold tolerant once established in the landscape. Very adaptable to a wide range of soil conditions. Used to cover vast areas, trail walls and cover hill sides.  Great plant for controlling erosion.
We offer Blue Rug 15" to 18" in a 3 gallon container.
More About Juniperus horizontalis 'Wiltoni'
Toughest evergreen landscape plant available.
Spreader covering wide areas.
Ideal for hill side or rock garden.
Interesting Notes:
Low growing and valued for its adaptability to sand and rocky soil.  Tolerates hot dry sunny locations.  Ideal for slope planting, ground cover and mass planting.
Blue Rug Juniper Growing and Maintenance Tips
Fertilize in spring with an all purpose fertilizer before new growth begins.
Height:
4 Inches
Spread:
8-10 Feet
Hardiness Zone:
4-9
Attributes
Rock Garden
Drought Tolerant
Mass Planting
Low Maintenance
Evergreen
Border or Bed
Fast Growing
Ground Cover
Season of Interest (Foliage)
Genus Overview: Juniperus
Common Name: Juniper
The Juniper is one of the toughest and most versatile evergreen landscape plants. It ranges from spreading ground cover types to large conical or pyramidal trees. Upright varieties are excellent as a screen, hedge, single specimen or as a windbreak. The low growing varieties are limitless when used as ground cover, foundation planting, grouping, or mass planting and to soften rock gardens. Needle-like foliage ranges in color from lustrous dark green to light green, blue, silver-blue, yellow and shades in-between. This resilient plant adapts to a variety of soil types and can withstand wind, drought, heat and humidity. Excellent for erosion control and can even withstand a little nibbling from deer and rabbits.