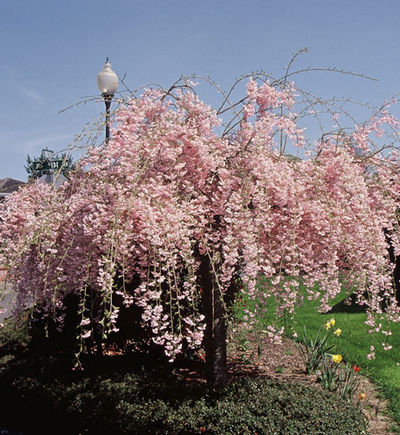 Prunus subhirtella - Weeping Higan Cherry, Double Weeping Cherry
Prunus subhirtella
Double Weeping Cherry Tree
Categories: Tree
Graceful arching branches cascade toward the ground on this medium sized flowering cherry.  Beautiful double rose pink bloom in early spring followed by copper colored foliage that matures to green in summer followed by yellow to orange in the fall. 
We offer the Double Subhirtella 1" to 1 1/2", 6' tall in a 20 gallon container.
More About Prunus subhirtella
Single specimen.
Group planting.
Along driveways.
Interesting Notes:
In 1912 The Mayor of Japan donated over 3,000 cherry trees to our nations capital in an effort to continue the close relationship between the two nations.  In March 1912 1st Lady Helen Taft and the Vice-Countess of Japan planted two cherries to commemorate the occasion.  From that simple ceremony, each spring The National Cherry Blossom Festival is held.  People from all over the world come to enjoy the splender when the trees are in bloom. 
Double Weeping Cherry Tree Growing and Maintenance Tips
Fertilize in spring with an all purpose fertilizer before new growth begins.
Height:
12-16 Feet
Spread:
12-16 Feet
Hardiness Zone:
4
Season of Interest (Flowering)
Season of Interest (Foliage)
Fall
Spring Bloomer
Summer
Genus Overview: Prunus (Flowering)