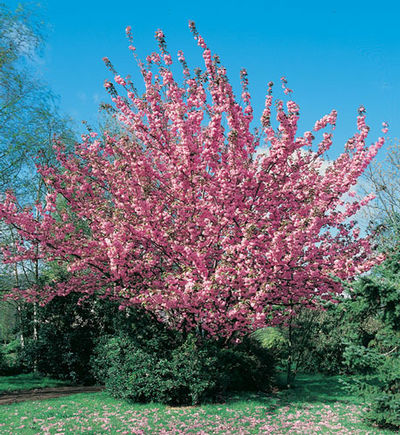 Prunus serrulata 'Kwanzan' - Kwanzan Japanese Flowering Cherry
Prunus serrulata 'Kwanzan'
Kwanzan Cherry
Categories: Tree
One of the most popular flowering cherries.  Small upright vase-shaped to round tree, has double clusters of pink flowers emerging in early spring and lasting for up to 3 weeks.  New foliage is copper red turning to green in summer with orange-red fall color.  Use as single specimen or grouping for a splended display in spring.
We offer Kwanzan 1" to 1 1/2" caliper, 6' tall in a 15 gallon container.
More About Prunus serrulata 'Kwanzan'
Single specimen.
Group planting.
Along driveways.
Interesting Notes:
In 1912 The Mayor of Japan donated over 3,000 cherry trees to our nations capital in an effort to continue the close relationship between the two nations.  In March 1912 1st Lady Helen Taft and the Vice-Countess of Japan planted two cherries to commemorate the occasion.  From that simple ceremony, each spring The National Cherry Blossom Festival is held.  People from all over the world come to enjoy the splender when the trees are in bloom. 
Kwanzan Cherry Growing and Maintenance Tips
Fertilize in spring with an all purpose fertilizer before new growth begins.
Height:
30 Feet
Spread:
20 Feet
Spacing:
30-40 Feet
Hardiness Zone:
5
Season of Interest (Flowering)
Genus Overview: Prunus (Flowering)