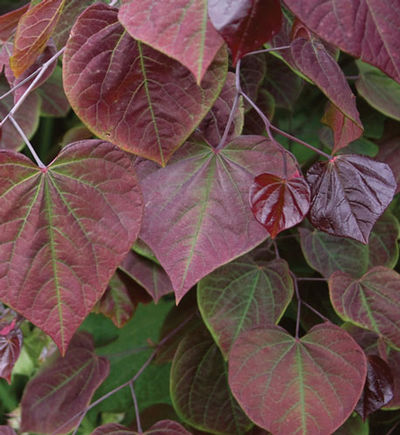 Cercis canadensis Forest Pansey Summer foliage
Cercis canadensis 'Forest Pansy'
Forest Pansy Redbud
Categories: Tree
An excellent tree for small gardens where space does not allow for larger trees. Tiny clusters of rose-purple bloom emerge in early spring followed deep purple heart shaped leaves that turn a muted green. Fall color ranges from various shades of red to reddish purple and orange.
We offer the Forest Pansy 6 to 8 feet tall in a 20 gallon container.
More About Cercis canadensis 'Forest Pansy'
Small tree excellent for small yards.
Attractive foliage summer and fall.
Adds contrasting color to the spring garden.
A cultivar of the native Redbud with heart-shaped leaves that open a deep reddish-purple, maturing to a muted purple-green depending on the heat of the summer. Darker, more purple flowers than the species are borne profusely in early spring.
Forest Pansy Redbud Growing and Maintenance Tips
Fertilize   in spring with an all purpose fertilizer before new growth begins.   When planting in groups spacing should be 25 to 30 feet apart.  Click on the "About Us" tab to find planting instructions.
Height:
20-30 Feet
Spread:
15-20 Feet
Spacing:
25-30 Feet
Hardiness Zone:
5-8
Season of Interest (Flowering)
Genus Overview: Cercis
Common Name: Eastern Redbud